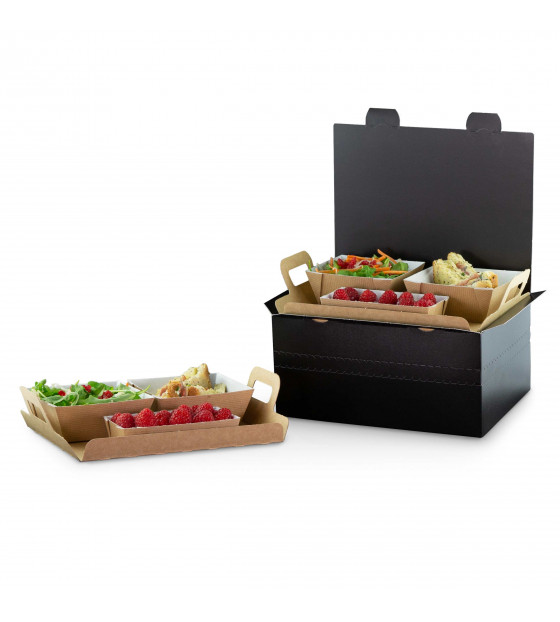  
ESSENTIEL MEAL BOX 2 PEOPLE
The ESSENTIAL box for 2 people is very minimalist, with no over-wrapping or lids on the plates, just the ESSENTIALS!
A kraft divider, to be placed on the first level of dishes, can be used as a placemat. The handles make it easy to insert and remove. 
The box has an all-round tear strip to allow better access to your preparations and reduce the volume during post-use recycling. Quickly shaped thanks to the automatic bottom, with the box lid attached. Delivered flat. 
Available as a 2 person meal plan with wooden or kraft cardboard tableware.
Presented with Madera French poplar tableware sold separately.
Valorisation
&nbsp: Recyclable
Size: 250x185xh120 mm
Material: Cardboard
Colour: Black
Pasteurization (70 to 85°C) : No
Micro-waves : No
Oven (220°C) : No
Freezing (-18°C) : No
Freezing (-35°C) : No
Recyclable : Yes
Also available for 1 person CEF1 or 4 persons CEF4. 
Separator with handle available CEF
Available with Madera AMD175 and AMD120 plates.
Data sheet
PlanetScore ©

A

Packing

100

Material

Carton / Papier

Valorisation

Recyclable