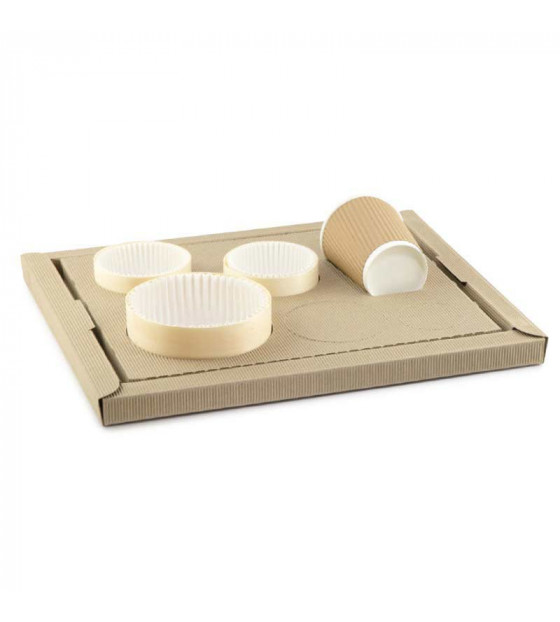  
THEMA KRAFT BASE + WOODBOX WEDGE assembled
Thema tray base in micro fluted kraft, with integrated wedge (delivered assembled) for up to 5 Wood Boxes sold separately:
1x WB56FD: Ø53 h32mm, 5 cl
3x WB86FD : Ø82 h40mm, 15 cl
1x WB120FD: Ø118 h50mm, 45 cl
The wedge is proposed with :
. 3 existing cut-outs: 1x Ø118 mm and 2x Ø82 mm
. 2 pre-cuts (not perforated): 1x Ø82 mm and 1x Ø53 mm
The Wood Boxes, made of French poplar with a paper/PET box, are suitable for use in the traditional oven (200°C) and in the microwave.
Valorisation
&nbsp: Recyclable
Material: Cardboard
Pasteurization (70 to 85°C): No
Micro-waves : No
Oven (220°C) : No
Freezing (-18°C) : No
Freezing (-35°C) : No
Dimension : 380x320xh20 mm
Unit weight : 159g
Colour : Kraft
Net weight : 15.9 Kg
Recyclable : Yes
Base and wedge for 5 Wood Boxes delivered assembled :
ø118 mm (x1) WB120
ø82 mm (x3), of which 1 not pre-cut WB86
ø53 mm (x1), not pre-cut WB56
Data sheet
PlanetScore ©

A

Packing

100

Material

Carton / Papier

Valorisation

Recyclable